November 10th, 2008 by Loloy
Sa pagbisita ni Ruby diri sa England, ako dayon siyang gisuroy sa among syudad, dayon sa London, stay mig 2 days didto ug nalipong ko sa hotel bisag bati pero grabe kamahal. Ako siyang gipailaila sa ako lola nga si Queen Elizabeth 2 ug nangadto mi sa iyang palasyo, ang Buckingham Palace. Nag-atang gyod mi sa change of Royal Guards ug sa Royal Horseguards. Pero wala gyod magpakita si lola rayna oy. Nangutana mig oras ni Big Ben, mosulod unta mi sa Houses of Parliament kay ako kumustahon si PM Gordon Brown pero wala siya didto. Daghan gyod magtuo nga ang London Bridge nindot pero di na mao iyang nakit-an. Ang London bridge kadtong ordinaryo rang tulay, na famous lang na siya sa kantang London bridge is falling down.
Unya, didto mig Warwick Castle, ang karaaang kastilyo sa panahon pa ni King Henry VIII kung nakasubay mo sa history. Stratford-upon-Avon, birthplace ni William Shakespeare, famout poet and playwriter.
Nangadto pod mi sa Manchester, ang 3rd biggest city in UK. Ug ang among city mao ang 2nd city after London, Birmingham. Naabtan mig sayo nga snow diri nga nagsugod nag October pa.

Buckingham Palace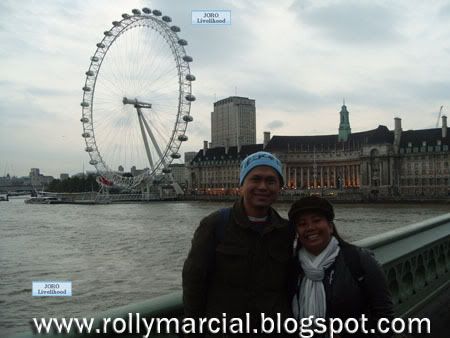 background is London Eye, the biggest in the world


the birthplace of William Shakespeare in Stratford-upon-Avon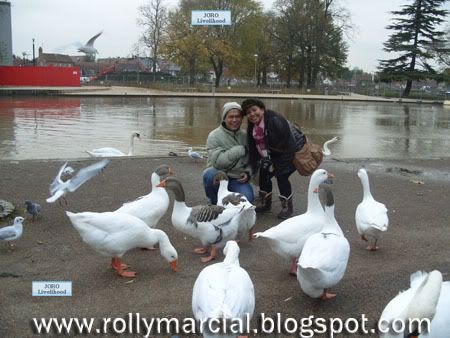 nag-enjoy mig pakaon sa mga gansa, pato ug swan
Mao ra to. Wala siya dri ron, tua sa iya amiga sa London ug moadto pod to sa iya amiga sa Harrogate ugma.
Tan-awa lang ninyo ang ako mga balay kay pasko na gyod didto.
Joro Livelihood
Joro, The New Beginning
Absolutely Joro
The World Of Joro
The Tale Of A Bukidnon Lad
Category: Istorya | 36 Comments »