May 17th, 2008 by Loloy
Dili gyod unta ko magpost diri ug scrapping kay ako ra ba ang pinakaiwit sa pakontes kay akong entry ang pinakabati…hehheheh. Pakaulaw lang gyod ka adto Loy da. Bahalag sawayon ni pero sige nalang kay kini kung dili pa tungod kay Jana, di gyod ko mobuhat aning bati nga scrapping…heheh.

Kanimo day Jana, congrats sa imo pagkadaug sa Filipino Blog of the Week #109. Unta makadaug gihapon ka this week ug bisag 2nd lang, mahimo na kang Hall of Fame.
Ayaw pod ninyo kalimti rong semanahona sa pagbotar gihapon sa mga taga-bisdak. Naa gihapon si Ruby nga naa karon sa Las Vegas nagwarawara. Para makaboto, adto lang mo sa salaswildthoughts, dayon adto Vote Now, tseke ng mga boxes nga naa ila mga ngalan, dayon click vote, mana dayon. Pwede ninyo buhaton kada-adlaw. Timan-i, nga dili lang ni sa botohan daugan, naay mga judges nga nagtan-aw sa inyong mga blog kung angayan bang padaugon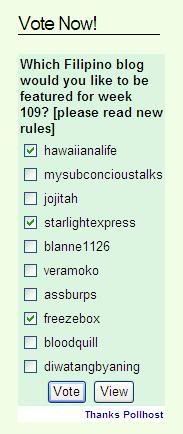 Ronel Livelihood
Joro, the new beginning
The Tale of the Bukidnon Lad
This entry was posted on Saturday, May 17th, 2008 at 9:14 pm and is filed under Bisaya. You can follow any responses to this entry through the RSS 2.0 feed. You can leave a response, or trackback from your own site.