Archive for March 4th, 2008
March 4th, 2008 by eric
Celebrity pictures and their children if ever they got married:
Mike Enriquez & Mel Tiangco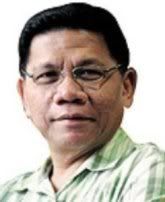 Read the rest of this entry »
Category: Bisaya | 44 Comments »
March 4th, 2008 by Joyoz
Didto niagi sabado laag me tanan ngadto to sa Melbourne Aquarium. Sulay kuno ba kay morag nindot sulti mga tawo bahin didto unya naa kuno daghan pating. Sus kay tinood jud diay daghan kaayo mga mananap sa dagat. Chada pud kaayo tan awun ba mga dagko kaayo aquarium unya naa poy gagmay. Bastang tinoyok namu sa lugar. Wara man pud 100bucks bayad sa tciket namu kay family man unya libre gamay bata. Haskang kulbaa pa namu ba kay nalingat mi nakabuhi ang amoa bunsoy sa stroller unya nawala. Basta katumbahon gyud ko sa kakulba. Kabuwagsa jud me pangita unya diha ra diay sa amoa gitindogan pagbalik namu gahulat na sa lingkuranan samtang gasegi tan aw sa mga isda. Ga ngaag lang kita namu unya kami ambot kamo nalang imagine. Kabalo jud tali mo sa feeling. Karun gi asthma tawun ag bata kay tugnaw kaayo last week. Karun pa ni sukad pag abot namu deri ataki.Wla pa maanad sa weather pero magsige hukas dagandaganan ko og ilisan mao sagdahan lang toa noon hubak hay kapait!
Ania tood ang uban sa mga hulagway nga akoa napikyturan!

Read the rest of this entry »
Category: Hulagway | 93 Comments »