Archive for September 1st, 2007
September 1st, 2007 by choco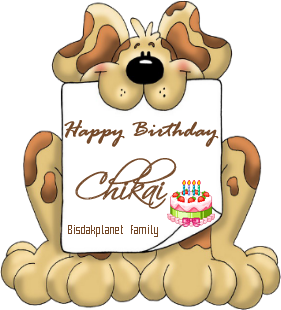 Category: Birthday | 59 Comments »
September 1st, 2007 by admin
Pasensya na nga naulahi ni ug post kining atong top members,dugay na unta ni nahuman kulang nalang e post. Nagtuo man ko nga Agusto 31 pa ta karon, sus kay September 1 naman diay, pasko na sa pinas hehehe…
Na, sori jud nga nauwahi imbis katapusan sa bulan ni e post, shalan wa man mo signal signal si rayna. Mao diay ni ang mga top 10 sa bulan sa Agusto, sori nalang sa duha nga ewit ug points. LOL

Ug mao usab kini atong member of the month si Rick ug Lolli.

Pahibalo, dili nalang ko mo assign kung kinsay mag post sa birthday ug anniversary, kay di man nato matag-an nga ma busy usahay ang mo boluntaryo. Ingon ani nalang bisag si kinsa nalang ang mo post ug greetings dire, ok lang ug mag doble. Kung kinsa ang maka higayon ug post sa birthday ug anniversary adunay cutie siggy nga madawat inig katapusan sa bulan.
Daghang Salamat!
Dugang panawagan: Ugma puhon Sept. 02 beerday ni Chikai ug palihog bisita sa iyang site [click dire] kay aduna siya games ug ang premyo DOMAIN NAME, kinsa tong myembro nga nanginahanglan ug domain hala apil kamo sa iyang pa premyo.
Category: Bisaya | 658 Comments »
September 1st, 2007 by chikai
Isko: Gubot gyud ang kinabuhi
Paeng: Mao, kinagubutan. Tan-awa, naminyo kos byuda may anak dalaga. Gipakaslan pud ni tatay ang anak. Nanay na nuon nako ang dalaga, ug si tatay akong anak. Ang asawa nako ugangan ni tatay, ug manganak sila, lolo ko sa akong igsoon. Kagubot!!!
Thought of the Day: Bahalag way kaugmaon basta maugmaan. Unsaon man ang kaugmaon ug dili naka maugmaan???
Si Pedro nagkarga og kanding sa bus -
Kundoktor: kinsa ning kanding dinhi?
Pedro: ako nah!
Konduktor: Pletihan ta ni ha?
Pedro: O, pangutan-a lang kung naba na syay kwarta!
Teacher: Juan, translate this sentence in English… "ang wakwak, nagluya-luya nga naglakaw-lakaw…"
Juan: sure mam! kasayon pud oi!.. "wakwak, weakweak, walkwalk…"
Prosti offering sex.
Bombay: i pay you double if we do INDIAN style.
Prosti agreed. After sex, she asks.
Prosti: So what is the Indian style?
Bombay: 90 days to pay!

Bisitaha akong BLOGSILOG aron sa gamay nakong pahalipay sa akong bertday.
Category: Pasi-aw | 27 Comments »